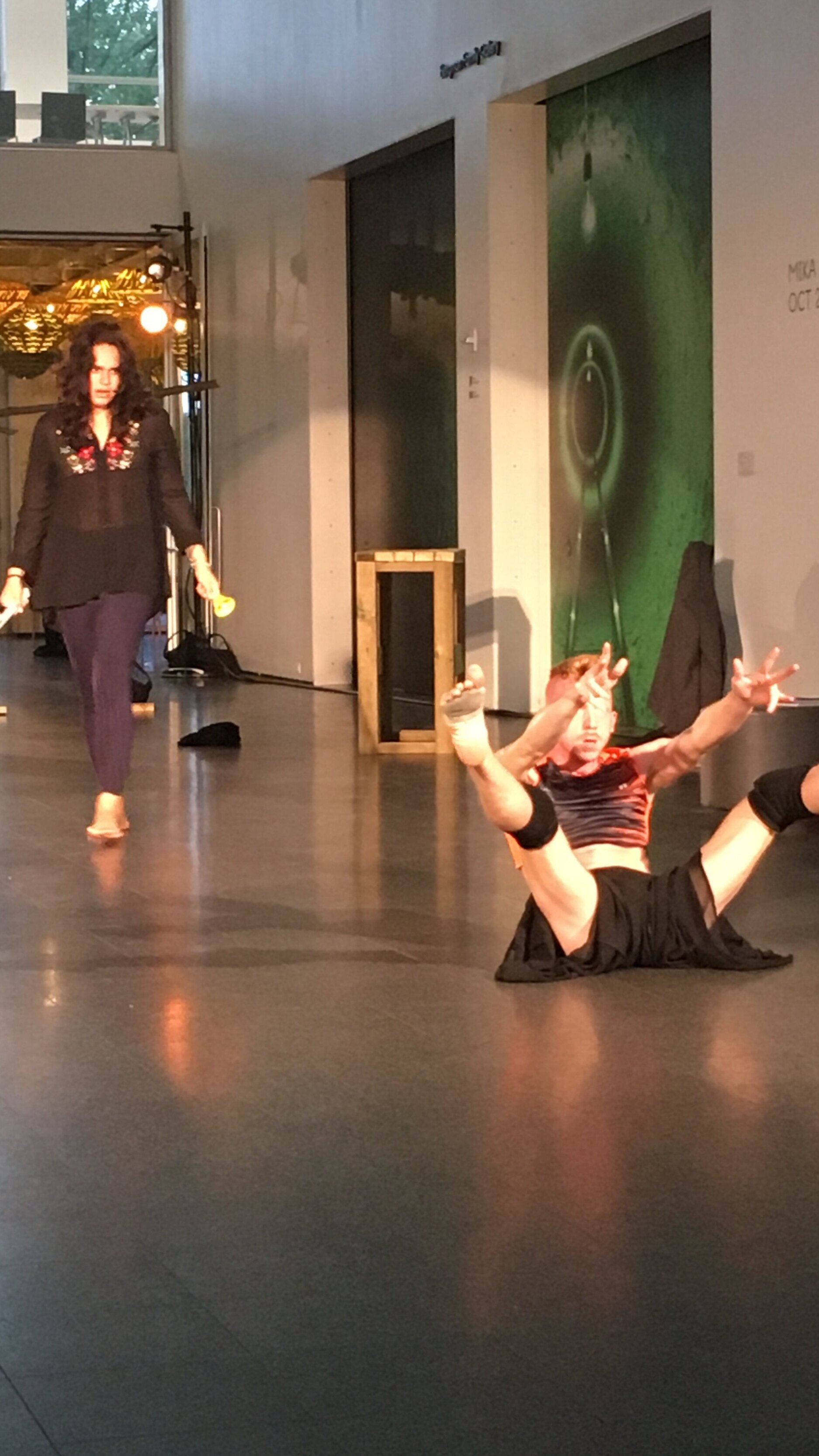 provides a movable feast of devised theater

The Storefront Project asked six Chicago-based directors to choose anything but a typical play and devise a new project, tailor-made for both the MCA Chicago and Prop Thtr, demonstrating Chicago theater's uncanny ability to pop up anywhere and bring their performances to both spaces on alternate weekends.
Nine Lives of A Cat presents moments in the life of Italian painter Antonio Ligabue.

Told through heightened sensory elements, live musical composition, poetry, dance, circus, and live painting, Nince Lives of a Cat explores the experience of an artist whose sensory experience of the world directly impacted the way in which he coped with trauma through art. Multidisciplinary artists used each of their mediums to blanket the stories in color, sound, magic and mystery.
Medusa is a multidisciplinary performance devised by an international ensemble of artists over one year, in four countries. Medusa celebrates the intersectional feminist revitalization of western mythology, the integration of accessibility design into the generative process, and the way social location affects participation in and interpretation of artistic experiences.
December
Goodman Theatre Playwrights Unit
by Marisela Treviño Orta
When college poetry instructor Carolina and her student Benjamin first meet, an attraction blossoms, but the possibility of romance is halted by Carolina who cannot overlook the age difference in good conscience. Spanning twenty years, this May-December romance follows Carolina and Benjamin as they meet at three different moments in their lives. December is a meditation on love, poetry, and timing.
A brutal comedic quartet about four very real women who lived boldly in France during the French Revolution's Reign of Terror.
This grand and dream-tweaked comedy is about violence and legacy, feminism and terrorism, art and how we actually go about changing the world.
It a true story. Or total fiction.
Or a play about a play.
Or a raucous resurrection that ends in a song and a scaffold.
The classic "Dick & Jane" characters from the ubiquitous 1950s children's books are grown-up and struggling to stay afloat in a home fractured by grief. Newly widowed Dick (now going by Richard) is raising his two children, Dick Jr. and Sally, who is deaf, while trying to manage a terminal illness that will inevitably leave them orphans. When he calls home his estranged sister, Jane, the family must reconcile and make peace with their shared and misunderstood histories before it's time for him to go. A recipient of the Kennedy Center's Jean Kennedy Smith Playwriting Award, Richard & Jane & Dick & Sally is a dramatic comedy about brothers, sisters, mothers, and fathers, with sign language, talking dogs, picnic tables, and Snickers bars.
Pop Magic Productions invites you to HOMESET, a quarterly salon series bringing artists together to share ideas. Each HOMESET will give 3 artists space to showcase their works in progress, lesser practiced skills, and interests in a casual atmosphere.
The thought behind the series is simple - artists flourish when they are in conversation with one another, and experiencing and examining one another's work -- especially in times of social and political unrest. It propels our aesthetic and understanding farther forward, and stokes the fire of active engagement.
In an effort to cultivate these nurturing spaces for artists, and in response to the need for more cross-exposure in the Chicago arts scene, HOME SET was put into action. Join us in reactivating our community this winter. Connect with creatives whose interests and passions can bolster your artistic practice. Support the growth of Chicago's independent art scene.


Gaia by Hiro Kanagawa and featuring: Samantha Michelle Nava, Kim Egan, Liam MacDougall

Minor Flood, Major Constellation: Sirius and the Cartographer Map the New World by Lisa Schlesinger and featuring: Leslie Coffman, Athanasia Sawicz, Izzy Tortuga, Kim Egan


Climate Change Theatre Action (CCTA) is a worldwide series of readings and performances of short climate change plays presented biennially in support of the United Nations Conference of the Parties (COP meetings).
CCTA 2017 was a collaboration between the Center for Sustainable Practice in the Arts, NoPassport Theatre Alliance, The Arctic Cycle, Theatre Without Borders, and York University.
The next CCTA will take place in the fall of 2019. For more information about the project, please visit the official website at www.climatechangetheatreaction.com.
20% Theatre Company
Written by Caridad Svich, produced in the Pentagon Theatre at Collaboraction Studios.
Three sisters living in the US are caught in the mess of a recent war's aftermath. When their soldier sister finally returns home, this family of little economic means must find a way to make do and carry on leaning on the strength of their family. A contemporary US story of faith, love, war, trauma, and a bit of healing.
Inappropriate Theatre Company &Crush Dance Collective
La Chingada was an immersive multi-sensory performance in a secret Chicago location. Guests were instructed to find the hashtag #LaChingada2014, and then wait to be led to the space. Upon arrival, they were free to explore and encounter multimedia and performance art. Would you rather smoke hookah and listen to ghost stories? Have a drink at the bar? Sit in a small, windowless room watching investigative reports on women who murdered their children? Perhaps you'd head to the restroom before the show, and notice a serene, ghostly woman filling the bathtub with water, one jar of water at a time. If you were brave, maybe you'd challenge a dark, hooded figure to a game of chess.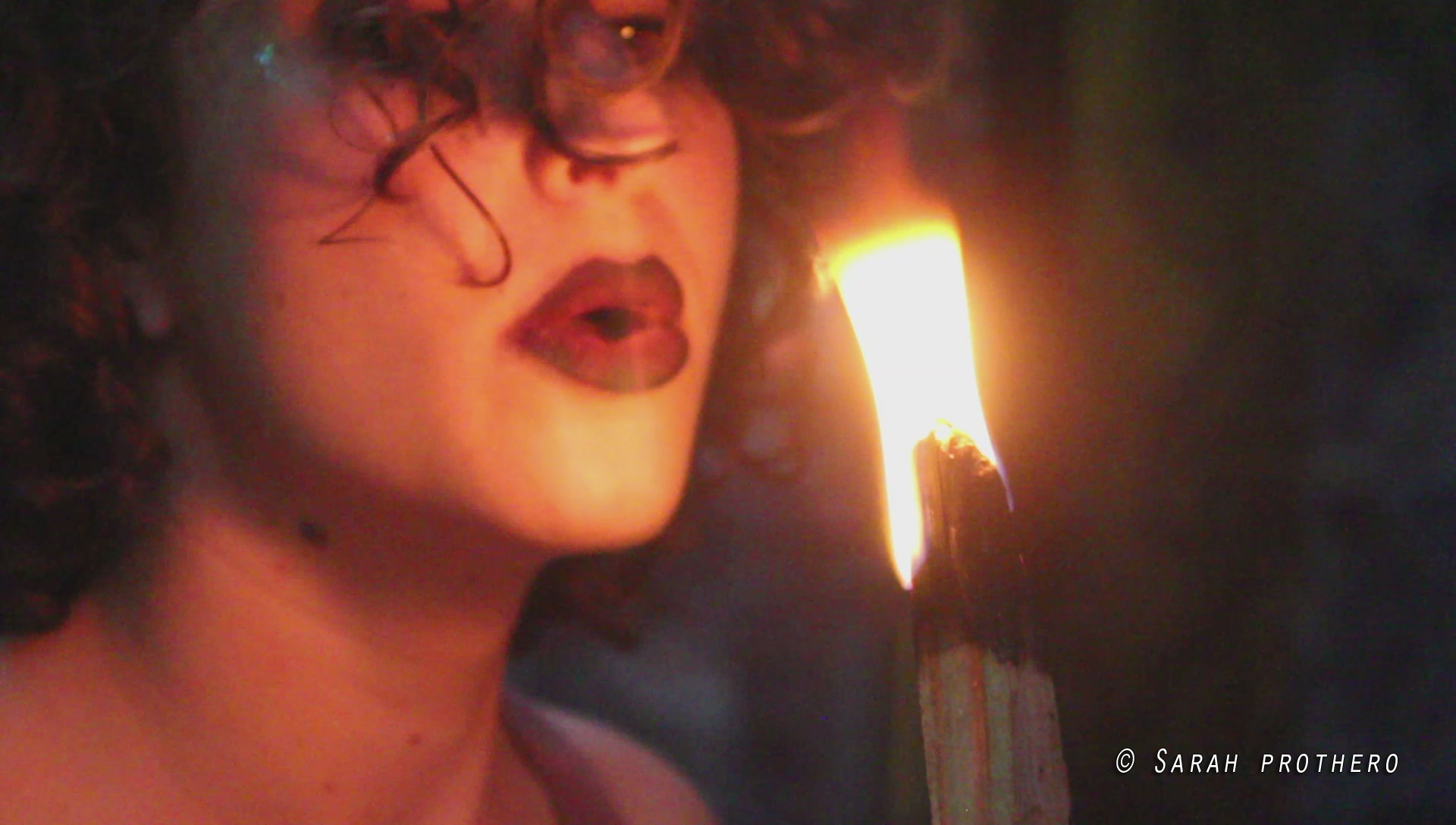 This choose-your-own-prologue approach offered guests the opportunity experience the legend of La Llorona in all the ways I had encountered her throughout my life. When the ensemble made their way to the river, depending on what you spent the last hour doing, La Chingada could be a ghost story, fairy tale, heinous crime, or tragedy.
Utilizing found text, Aboriginal folktales, Chicano poetry, liturgical iconography, transcripts from contemporary cases of filicide, and dance, the play investigated the power of oral tradition to obscure truths over time and seeks to reimagine and reclaim not only La Llorona's story, but her Voice.
NoPassport Theatre Alliance & Press and Missing Bolts Productions
After Orlando: an international theatre action. After Orlando was a collective of over seventy playwrights from the United States, Canada, the United Kingdom, Australia, and Uganda. Women, men, genderqueer playwrights, LGTBQ, Latinx, Latin@, playwrights of many colors and ethnicities. Playwrights from Florida, playwrights who danced in Pulse, playwrights who have never been there but are still profoundly affected and heard the call to create and inspire change.
During the fall of 2016 Readings from the collection were presented at more than thirty theatres and colleges, universities, and high schools across the US and UK in observance of Pulse Nightclub shooting in Orlando.
The Chicago event featured plays by Cecilia Copeland, Migdalia Cruz, Zac Kline, Neil LaBute, Jessica Litwak, Anders Lustgarten, Jennifer Maisel, Rohina Malik, Tyler McCray, Winter Miller, Viet Nguyen, Ryan Oliveira, Katie Pearl, Darryl Pickett, Lisa Schlesinger, and Ken Urban.
(the)Forget_Me\Knot
Inappropriate Theatre Company
(the)forget_me\knot was a performance art and multimedia experience in Chicago's West Loop. Utilizing cultural artifacts, live music, and participatory artistic presentations, guests were invited to slip between the roles of muse, patron, and voyeur. Together we explored the power of permanence, and the insatiable desire to be remembered.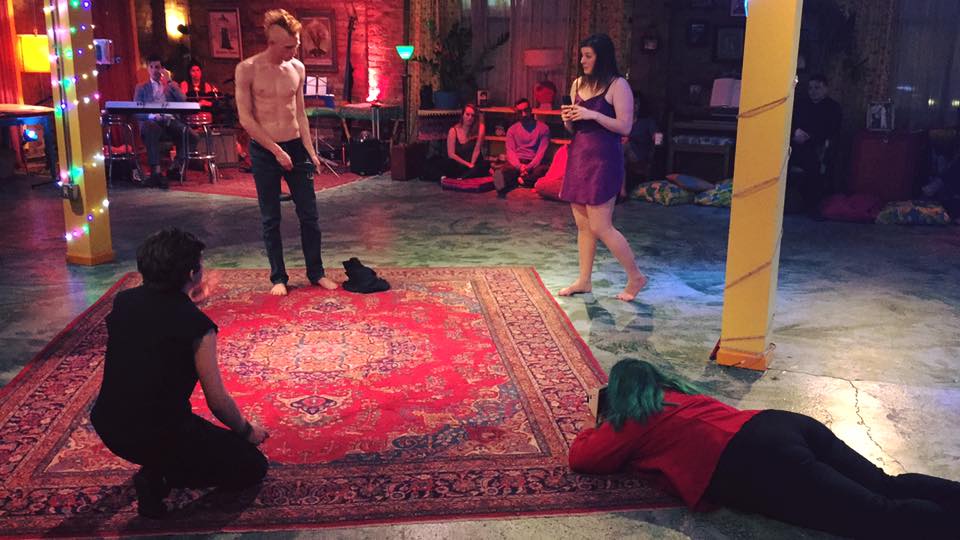 The Curious Savage
University Interscholastic League
Raul Yzaguirre Middle School
Mrs. Savage has been left ten million dollars by her husband and wants to make the best use of it, in spite of her grown-up stepchildren's efforts to get their hands on it. Knowing that the widow's wealth is now in negotiable securities, and seeing they cannot get hold of the fortune, the stepchildren commit her to a sanatorium hoping to "bring her to her senses."
In the sanatorium Mrs. Savage meets various social misfits, men and women who just cannot adjust themselves to life, people who need the help Mrs. Savage can provide. Her friends conspire to get rid of her stepchildren, and through their simple belief in the justice of her cause, they enable Mrs. Savage to carry out her plans to establish a fund to help others realize their hopes and dreams.
Om Swastyastu from London
Institut Seni Indonesia
A production presented by by 10 directors from all over the world.
Performances were devised over 4 weeks of immersion and study in Bali.
Performances featured talented students from Institut Seni Indonesia Denpasar
and SMK Negeri 3 Sukawati (KOKAR).
The Wailing Woman was a devised adaptation of the legend of La Llorona, integrating Balinese mythology and Wayang (shadow puppets). Students from Kokar and I worked using mostly musical and visual stimulus that I had collected prior to rehearsals, as our ability to communicate in the same language was minimal. Elements of this process and performance were utilized in the creation of my dissertation, La Chingada.
The Cover of Life
NeXtage Productions
Tood, Weetsie and Sybil are brides in rural Louisiana in 1943. Each married a Cliffert brother. The men are off to war and a local news story about these young wives keeping the home fires burning intrigues Henry Luce. He decides that they belong on the cover Life Magazine and assigns Kate Miller to the story. Kate spends a week with the Cliffert women and her haughty urban attitude gives way to sympathy as she begins to understand them while coming face to face with her own powerlessness in a man's world. Filled with charm and fun, The Cover of Life is a deeply affecting story about the struggle for self worth.
The profits of this production were be donated in support of the Si-Fi Safe Harbor House in Springfield, OH.
The Safe Harbor House is a communal living discipleship program in Springfield, OH designed to help motivated women choose to flee destructive habits and lifestyles and make healthier and more beneficial life decisions. Through the consistent accountability and encouragement of mentors living in the home, SHH desires to see lasting changes in the lives of women by being vessels of the light of Christ and His truth, piercing the darkness of their past in order to show them eternal hope for their future.
The Women of Lockerbie
Cedarville University
A mother from New Jersey roams the hills of Lockerbie Scotland, looking for her son's remains that were lost in the crash of Pan Am 103. She meets the women of Lockerbie, who are fighting the U.S. government to obtain the clothing of the victims found in the plane's wreckage. The women, determined to convert an act of hatred into an act of love, want to wash the clothes of the dead and return them to the victim's families. Loosely inspired by a true story, and written in the structure of a Greek tragedy, it is a poetic drama about the triumph of love over hate. Winner of the silver medal in the Onassis International Playwriting Competition and the Kennedy Center Fund for New American Plays award.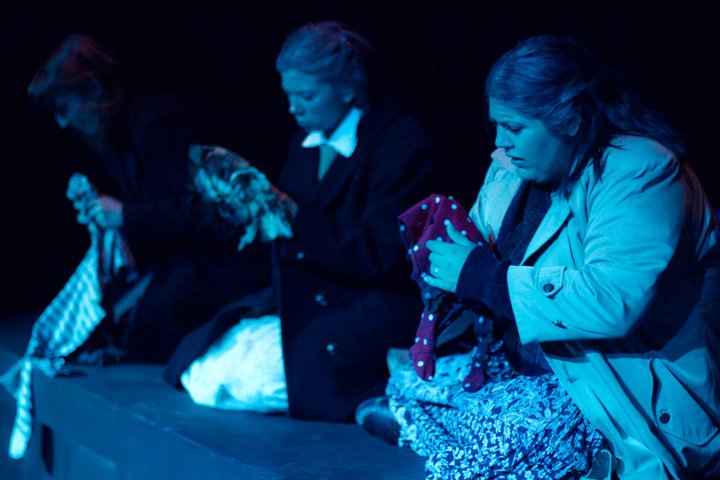 The Shadow Box
Michigan Interscholastic Forensic Association
Chelsea High School
In this compelling dramatic triptych, three terminal cancer patients dwell in separate cottages on a hospital's grounds. The three are attended and visited by family and close friends: Agnes and her mother Felicity, estranged further by the latter's dementia; Brian and Beverly, whose marital complications are exacerbated by Brian's new lover, Mark; and Joe and Maggie, unready for the strain of Joe's impending death and its effect on their teenage son.
The Brothers Grimm Spectaculathon
Raul Yzaguirre Middle School
The fairy tales of the Brothers Grimm are turned on their heads in this fast-paced, rollicking ride as two narrators and several actors attempt to combine all 209 stories ranging from classics like Snow White, Cinderella, and Hansel and Gretel to more bizarre, obscure stories like The Devil's Grandmother and The Girl Without Hands. A wild, free-form comedy with lots of audience participation and madcap fun.